WEMPE Thermometer/Hygrometer Combination 175mm Ø (SENATOR Series)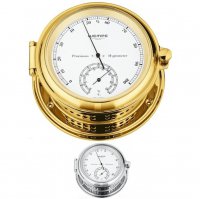 Product description:
This WEMPE thermometer/hygrometer combination panel is part of the particularly valuable SENATOR Series of the German traditional company whose marine instruments are used all around the world. The enclosure of the SENATOR thermometer/hygrometer is hand cast in a complex manufacturing procedure. It is polished and then colourlessly oven-lacquered and also available as high-gloss polished chrome plated edition.
Choose your top-class WEMPE instrument with high value viability. The WEMPE SENATOR thermometer/hygrometer will give you long-lasting pleasure. It shows temperature and relative humidity level on a white clock face that is 125mm in diameter. The numerals are black prints.
| | |
| --- | --- |
| Instrument: | Thermometer, Hygrometer |
| Size of clock face: | White clock face with black numerals |
| Material: | Brass |
| Movement: | Precision hygrometer with thermometer |
| Scale: | Temperature in °C/°F, Humidity level in % |
| Design of clock face: | White clock face with black numerals |
| Hygrometer - Accuracy: | +/- 2% between 40 - 90 %' |
| Hygrometer - Humidity sensor: | Synthetic fibre |
| Hygrometer - Measuring range: | 0 to 100 % |
| Hygrometer - Range of operating temperature: | -10 to +50 °C' |
| Thermometer - Accuracy: | +/- 1°C between -10°C to +50°C' |
| Thermometer - Measuring range: | 20 to 120 °F |
| Thermometer - Temperature sensor: | Bi-metal |
Shipping costs
Denmark (12.00 EUR)
Italy (5.95 EUR)
Luxembourg (12.00 EUR)
Netherlands (12.00 EUR)
Poland (15.00 EUR)
Portugal (15.00 EUR)
Spain (15.00 EUR)
Sweden (15.00 EUR)
Switzerland (29.75 EUR)
---
Methods of payment
Prepayment via bank transfer
Paypal
Credit card
---
Available in different designs
Related products
---
---
---
---
---
---
---
Other customers looked for:
precision hygrometer thermometer