WEMPE Quartz Clock with Thermometer/Hygrometer Combination (NAVIGATOR II Series)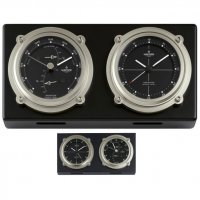 Product description:
The WEMPE NAVIGATOR II Combination instrument is a masterpiece of maritime fine mechanic and symbolises the high-quality instrument fabrication "Made in Germany". It consists of a double chamber barometre and a thermometre/hygrometre. Both displays are embedded in a 55 mm thick black wooden board. Thanks to Luminova markers, the Arabic numbers glow. An additional highlight is the gradual seconds hand. The measuring instruments have either a nickel-plated matt or anodised black frame.
The WEMPE NAVIGATOR II is optionally available on an elegantly black wooden board or with a carbon finish of high quality on the wooden board, which measures 300 x 150 mm and is equipped with a battery-powered quartz movement.
| | |
| --- | --- |
| Instrument: | Quartz clock, Barometer,Thermometer,Hygrometer |
| Size of clock face: | White clock face with black numerals |
| Material: | Brass / Aluminium enclosure |
| Movement: | Battery-powered quartz movement, Double aneroid barometer |
| Scale: | Arabic numerals, Atmospheric pressure in hPa, Temperature in °C, Humidity level in % |
| Design of clock face: | Black clock face with white numerals |
| Clock face illumination: | LumiNova - glowing clock face |
| Barometer - Accuracy: | +/- 2 hPa between 980 - 1030 hPa' |
| Barometer - Measuring range: | 950 to 1050 hPa |
| Barometer - Number of aneroid capsules: | 2 |
| Barometer - Range of operating temperature: | +4°C to +50°C' |
| Barometer - Temperature error: | +/- 2,5 hPa at sudden change in temperature of +/- 10°C' |
| Hygrometer - Accuracy: | +/- 2% between 40 - 90 %' |
| Hygrometer - Humidity sensor: | Synthetic fibre |
| Hygrometer - Measuring range: | 20 to 100 % |
| Hygrometer - Range of operating temperature: | -10 to +50 °C' |
| Quartz clock - Battery: | 1 x Mignon 1.5 Volt (technological standard description IEC : LR& - ANSI AA) |
| Quartz clock - Frequency: | 32.768 KHz |
| Quartz clock - Range of operating temperature: | +4°C to +50°C' |
| Quartz clock - Rate accuracy: | DIN 8325 ≤ 1 sec. per day |
| Thermometer - Accuracy: | +/- 1°C between 0 - 40°C' |
| Thermometer - Temperature sensor: | Bi-metal |
Shipping costs
Denmark (12.00 EUR)
Italy (5.95 EUR)
Luxembourg (12.00 EUR)
Netherlands (12.00 EUR)
Poland (15.00 EUR)
Portugal (15.00 EUR)
Spain (15.00 EUR)
Sweden (15.00 EUR)
Switzerland (29.75 EUR)
---
Methods of payment
Prepayment via bank transfer
Paypal
Credit card
---
Available in different designs
---
---

Article number: #
CW550013
Quartz clock with barometre and thermometre/hygrometre anodised pitch-black on a black wooden board
| | |
| --- | --- |
| Surface: | Pitch-black anodised on a black wooden board |

Ready for dispatch within 24h
(excl. VAT: 2084.03 EUR)
Shipping weight: 4.00 Kg
Related products
---
---
---
---
---
---
---
Other customers looked for:
what instrument is a combination of a barometer thermometer
wempe navigator ii