WEMPE - Comfort-Meters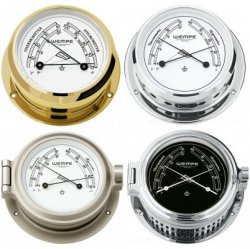 With the WEMPE comfortmeter you get two products in one: a thermometer measures the temperature in °C and °F and the hygrometer measures the relative humidity in %. These measures are related and are an important indicator for weather conditions at sea.
Even in closed rooms the comfortmeter is a useful instrument that not only brings marine flair to your living room. This instrument helps regulating a comfortable climate, as a higher level of humidity requires as drop in temperature. Who is comfortable with 30% humidity and 22.5°C will also feel good in 60% humidity and 21°C.
The assortment of WEMPE comfortmeters is broad: from entry-level model to the gold plated luxury instrument - we have them all. Choose your favourite design and trust 110 years of German quality craftsmanship.
---
---
---
---
---
Other customers looked for:
wempe hygrometer thermometer
comfort meters
wempe comfortmeter barometer
Measure of temperature and humidity brass