WEMPE - Chronographs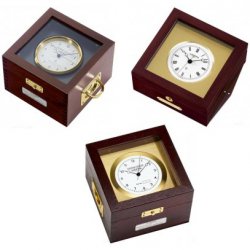 When it comes to fine marine instruments, WEMPE chronometers are top-class choice! They unite modern technology and classy enclosure - both manufactured by a German company with 110 years of expertise and worldwide customers. The chronometric instruments sail the seas and decorate the living rooms of marine enthusiasts.
Purchase one of the most beautiful nautical instruments available on the market in a fine box made from mahogany. The clock is battery-powered by a quartz movement. All WEMPE chronometers come in two editions: either with a white clock face and fixated on a polished brass plate or brass-framed white clock face on a black aluminium plate. The black numerals are printed on in either Roman or Arabic font. The DHI-Certificate points out the exclusiveness of these products.


Chronometer brass / aluminium black in mahogany box
[More details]

No longer available


Chronometer brass in mahogany box
[More details]

Ready for dispatch within 24h
1689.00 EUR
(excl. VAT: 1419.33 EUR)
Other customers looked for:
ship chronometer boxes
wempe marine-quartz chronometer 13306