WEMPE Barometer with Thermometer/Hygrometer Combination (NAVIGATOR II Series)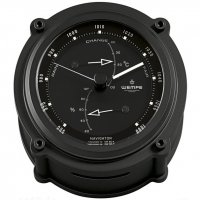 Product description:
This WEMPE combined instrumentation panel of the NAVIGATOR II Series is not only functional but impresses with its exclusive design. The bead blasted aluminium closure is solid and the black anodization perfectly fits the interior of modern yachts.
The marine WEMPE instrument of the NAVIGATOR II Series combines double aneroid barometer, thermometer, and hygrometer. Therefore it is possible to view atmospheric pressure in hPa, temperature in °C/°F, and relative humidity level in % at once - on the black clock face with white LumiNova indexes. This masterpiece of German traditional craftsmanship is a real eye-catcher, even in modern offices.
| | |
| --- | --- |
| Instrument: | Barometer, Thermometer, Hygrometer |
| Size of clock face: | White clock face with black numerals |
| Material: | Aluminium |
| Surface: | Aluminium matt black |
| Movement: | Double aneroid barometer |
| Scale: | Atmospheric pressure in hPa, Temperature in °C, Humidity level in % |
| Design of clock face: | Black clock face with white numerals |
| Clock face illumination: | LumiNova - glowing clock face |
| Barometer - Accuracy: | +/- 2 hPa between 980 - 1030 hPa' |
| Barometer - Measuring range: | 950 to 1050 hPa |
| Barometer - Number of aneroid capsules: | 2 |
| Barometer - Range of operating temperature: | +4°C to +50°C' |
| Barometer - Temperature error: | +/- 2,5 hPa at sudden change in temperature of +/- 10°C' |
| Hygrometer - Accuracy: | +/- 2% between 40 - 90 %' |
| Hygrometer - Humidity sensor: | Synthetic fibre |
| Hygrometer - Measuring range: | 20 to 100 % |
| Hygrometer - Range of operating temperature: | -10 to +50 °C' |
| Thermometer - Accuracy: | +/- 1°C between 0 - 40°C' |
| Thermometer - Temperature sensor: | Bi-metal |

Ready for dispatch within 24h
1380.00 EUR
(excl. VAT: 1159.66 EUR)
Shipping weight: 2.00 Kg
---
Shipping costs
Denmark (12.00 EUR)
Italy (5.95 EUR)
Luxembourg (12.00 EUR)
Netherlands (12.00 EUR)
Poland (15.00 EUR)
Portugal (15.00 EUR)
Spain (15.00 EUR)
Sweden (15.00 EUR)
Switzerland (29.75 EUR)
---
Methods of payment
Prepayment via bank transfer
Paypal
Credit card
---
Wempe-Instruments.com Article number: #
CW550004
Related products
---
---
---
---
---
---
---
Other customers looked for:
thermometer hygrometer barometer modern
instrument made by series combination