WEMPE Barometer with Thermometer/Hygrometer Combination 185mm Ø (ADMIRAL II Series)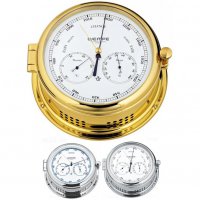 Product description:
If you have limited space on boards or simply like viewing everything at once, this combined instrument panel is the right choice! The WEMPE double aneroid barometer is combined with a thermometer/hygrometer which allows you to measure atmospheric pressure, temperature, and relative humidity level with only one gadget.
The revised ADMIRAL II Series is a representative for elegance and modern technology. The easy-to-read white clock face is 125mm in diameter and printed with black numerals. Choose one out of two housing types: Colourlessly lacquered or chrome plated brass. The chrome plated edition is also available with a blue framed clock face.
| | |
| --- | --- |
| Instrument: | Thermometer, Hygrometer |
| Size of clock face: | White clock face with black numerals |
| Material: | Brass |
| Movement: | Double aneroid barometer |
| Scale: | Temperature in °C, Humidity level in % |
| Barometer - Accuracy: | +/- 3 hPa between 980 – 1030 hPa' |
| Barometer - Measuring range: | 940 to 1060 hPa |
| Barometer - Number of aneroid capsules: | 1 |
| Barometer - Range of operating temperature: | +4°C to +50°C' |
| Barometer - Temperature error: | +/- 3 hPa at sudden change in temperature of +/- 10°C' |
| Hygrometer - Accuracy: | +/- 2% between 40 - 90 %' |
| Hygrometer - Humidity sensor: | Synthetic fibre |
| Hygrometer - Measuring range: | 0 to 100 % |
| Hygrometer - Range of operating temperature: | -10 to +50 °C' |
| Thermometer - Accuracy: | +/- 1°C between -10°C to +50°C' |
| Thermometer - Temperature sensor: | Bi-metal |
Shipping costs
Denmark (12.00 EUR)
Italy (5.95 EUR)
Luxembourg (12.00 EUR)
Netherlands (12.00 EUR)
Poland (15.00 EUR)
Portugal (15.00 EUR)
Spain (15.00 EUR)
Sweden (15.00 EUR)
Switzerland (29.75 EUR)
---
Methods of payment
Prepayment via bank transfer
Paypal
Credit card
---
Available in different designs

Article number: #
CW450012
Barometer with thermometer/hygrometer brass with white clock face
| | |
| --- | --- |
| Surface: | Brass |
| Design of clock face: | White clock face with black numerals |

Delivery time of 8 weeks
(excl. VAT: 739.50 EUR)
Shipping weight: 2.00 Kg
---

Article number: #
CW460002
Barometer with thermometer/hygrometer chrome plated with white clock face and blue frame
| | |
| --- | --- |
| Surface: | Chrome plated |
| Design of clock face: | White clock face with black numerals / blue frame |

Delivery time of 8 weeks
(excl. VAT: 1159.66 EUR)
Shipping weight: 2.00 Kg
---

Article number: #
CW460007
Barometer with thermometer/hygrometer chrome plated with white clock face
| | |
| --- | --- |
| Surface: | Chrome plated |
| Design of clock face: | White clock face with black numerals / blue frame |

Delivery time of 8 weeks
(excl. VAT: 907.56 EUR)
Shipping weight: 1.00 Kg
Related products
---
---
---
---
---
---
---
Other customers looked for:
3 Face Clock hygrometer Thermoneter Brass
combination clock barometer temperature humidity
clock barometer thermometer hygrometer
barometer hygrometer
thermometer/barometer