WEMPE PILOT IV Series (Ø 100mm)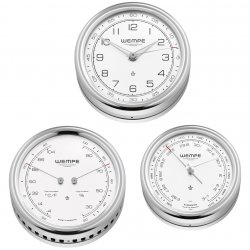 The new PILOT IV Series targets all WEMPE customers with a passion for timelessly beautiful marine instruments. The concept is catching on: The high-quality stainless steal housing holds modern technology, just like we are expect from chronometer movements. The clock face is uniquely designed - the background is anthracite-coloured with dark grey Arabic numerals. The indexes are also designed in dark grey with high-contrast tips in a rich red colour.
The battery-powered quartz clock of the WEMPE PILOT IV Series D50is accompanied by a barometer and a thermometer/hygrometer combination that shows the temperature in degrees Celsius or Fahrenheit on the left and relative humidity in % on the right.
You like the minimalistic appearance of the PILOT IV Series, but you prefer a black clock face? We recommend WEMPE's PILOT III Series!


Ready for dispatch within 24h
219.00 EUR
(excl. VAT: 184.03 EUR)
---


Ready for dispatch within 24h
219.00 EUR
(excl. VAT: 184.03 EUR)
---


Ready for dispatch within 24h
189.00 EUR
(excl. VAT: 158.82 EUR)