WEMPE - Meteorological Stations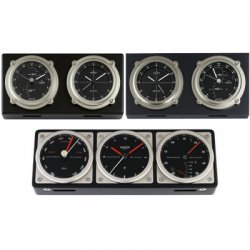 Meteorological stations are supposed to be functional. WEMPE weather stations prove that aesthetic appearance and functionality can be combined in one product. The marine instruments are fixated on beautifully crafted wooden boards. Instruments with chrome plated housing are presented on a high-contrast black background - upon request in carbon look similar to the NAVIGATOR II Series. A colourlessly lacquered brass enclosure is attached to a noble-looking mahogany board.
The WEMPE meteorological stations are by all means elegantly presented instruments with many functions: a quartz clock is combined with a barometer and a thermometer/hygrometer. In one glance you can view time, atmospheric pressure, temperature and relative humidity - on land or at sea. This gadget is available in different sizes in many of our product Series with either black or white clock face. It is a perfect gift and a decorative accessory equipped with modern technology.
---
---
Other customers looked for:
wempe weather station
wooden marine instrument housing
wempe cw560001 manual
Instrument fine in the meteological station
Instrument fine in the meteorological station