WEMPE Barometer 175mm Ø, hPa/Inch (SENATOR Series)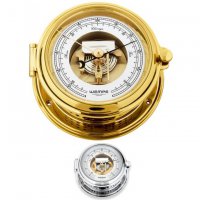 Product description:
The WEMPE barometer of the SENATOR Series is very special in many terms. It is a double aneroid instrument for precise measurements, that are valued by WEMPE customers all over the world. An eye-catcher is the visible movement.
The enclosure of the WEMPE SENATOR barometer is hand cast, complexly polished, and colourlessly oven-lacquered. It is also available as chrome plated high-gloss version. All editions have white clock faces with black Roman numerals. With its 125mm diameter the barometer is easy to read.
| | |
| --- | --- |
| Instrument: | Barometer |
| Size of clock face: | White clock face with black numerals |
| Material: | Brass |
| Movement: | Double aneroid barometer |
| Scale: | Atmospheric pressure in hPa/Inch |
| Design of clock face: | White clock face with black numerals |
| Barometer - Accuracy: | +/- 3 hPa between 980 – 1030 hPa' |
| Barometer - Measuring range: | 950 to 1050 hPa, 28 to 31 Inch |
| Barometer - Number of aneroid capsules: | 1 |
| Barometer - Range of operating temperature: | +4°C to +50°C' |
| Barometer - Temperature error: | +/- 3 hPa at sudden change in temperature of +/- 10°C' |
Shipping costs
Denmark (12.00 EUR)
Italy (5.95 EUR)
Luxembourg (12.00 EUR)
Netherlands (12.00 EUR)
Poland (15.00 EUR)
Portugal (15.00 EUR)
Spain (15.00 EUR)
Sweden (15.00 EUR)
Switzerland (29.75 EUR)
---
Methods of payment
Prepayment via bank transfer
Paypal
Credit card
---
Available in different designs
Related products
---
---
---
---
---
---
---
Other customers looked for:
brass barometer
panoreserve movement
Wempe senator weight
Wempe senator barometer