WEMPE Mechanical Bell Clock 150mm Ø (Bremen II Series)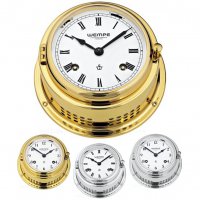 Product description:
The WEMPE BREMEN II series ship's bell clock uses a mechanical movement und striking mechanism. The strike of the bell clock can be turned off via a small switch on request. The entire product series was recently revised and is one of the most popular marine product line of the German traditional company WEMPE.
Bell clocks are only rarely used for changes in watch duties aboard these days, but the WEMPE BREMEN II bell clock is still an elegant accessory on ships. The enclosure is either chrome plated or colourlessly lacquered brass and 150mm in diameter. The white clock face is decorated with Roman or Arabic numerals. Choose one out of the four WEMPE BREMEN II bell clocks.
| | |
| --- | --- |
| Instrument: | Bell clock |
| Size of clock face: | White clock face with black numerals |
| Material: | Brass |
| Movement: | Mechanical movement with 8-day power reserve |
| Design of clock face: | White clock face with black numerals |
| Bell clock - Average weekly rate: | +/- 3 minutes' |
| Bell clock - Jewels: | 11 |
| Bell clock - Power reserve: | 8 days |
| Bell clock - Range of operating temperature: | +4°C to +50°C' |
Shipping costs
Denmark (12.00 EUR)
Italy (5.95 EUR)
Luxembourg (12.00 EUR)
Netherlands (12.00 EUR)
Poland (15.00 EUR)
Portugal (15.00 EUR)
Spain (15.00 EUR)
Sweden (15.00 EUR)
Switzerland (29.75 EUR)
---
Methods of payment
Prepayment via bank transfer
Paypal
Credit card
---
Available in different designs
Related products
---
---
---
---
---
---
Other customers looked for:
wempebarometer tepmerature watch