WEMPE Barometer 150mm Ø, hPa/mmHg (BREMEN II Series)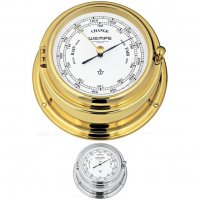 Product description:
This WEMPE barometer is part of the redesigned BREMEN II Series. It is a nautical precision instrument to measure atmospheric pressure, which is shown in hPa and mmHg with black indexes and numerals on a white clock face. This barometer can be opened to the front, which enables the owner to make readjustments without having to take it down from the wall.
With a size of 150mm and a clock face of 100mm the WEMPE barometer BREMEN II is an eye-catcher in every radio room and offices with its elegant enclosure, made from colourlessly lacquered or chrome plated brass.
| | |
| --- | --- |
| Instrument: | Barometer |
| Size of clock face: | White clock face with black numerals |
| Material: | Brass |
| Movement: | Barometer |
| Scale: | Atmospheric pressure in hPa/mmHg |
| Design of clock face: | White clock face with black numerals |
| Barometer - Accuracy: | +/- 2 hPa between 980 - 1030 hPa' |
| Barometer - Measuring range: | 940 to 1060 hPa, 700 to 790 mmHg |
| Barometer - Number of aneroid capsules: | 1 |
| Barometer - Range of operating temperature: | +4°C to +50°C' |
| Barometer - Temperature error: | +/- 2,5 hPa at sudden change in temperature of +/- 10°C' |
Shipping costs
Denmark (12.00 EUR)
Italy (5.95 EUR)
Luxembourg (12.00 EUR)
Netherlands (12.00 EUR)
Poland (15.00 EUR)
Portugal (15.00 EUR)
Spain (15.00 EUR)
Sweden (15.00 EUR)
Switzerland (29.75 EUR)
---
Methods of payment
Prepayment via bank transfer
Paypal
Credit card
---
Available in different designs

Article number: #
CW310008

Ready for dispatch within 24h
(excl. VAT: 342.86 EUR)
Shipping weight: 2.00 Kg
---

Article number: #
CW360002

Delivery time of 8 weeks
(excl. VAT: 365.55 EUR)
Shipping weight: 5.00 Kg
Related products
---
---
---
---
---
---
---
Other customers looked for:
barometer pilot
barometr Precisie