WEMPE Quartz Tide Clocks 150mm Ø (BREMEN II Series)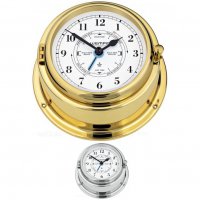 Product description:
The WEMPE tide clock is a new product in the BREMEN II Series and is driven by a battery-powered quartz movement. It is a ship clock that displays not only time but also the rhythm of the tides. It is important at sea as well as in costal regions, as tidal movements have impact on everyday life.
The WEMPE quartz ship clock with tide index is 150mm in diameter with white clock face and Arabic numerals in black. The enclosure can easily be opened to the front for battery exchanges and is available with either chrome plated or colourlessly lacquered brass housing.
| | |
| --- | --- |
| Instrument: | Tide clock |
| Size of clock face: | White clock face with black numerals |
| Material: | Brass |
| Movement: | Battery-powered quartz movement |
| Scale: | Arabic numerals, Tide index |
| Design of clock face: | White clock face with black numerals |
| Quartz clock - Battery: | 1 x Lady 1.5 Volt (technological standard description IEC : LR1 - ANSI : N) |
| Quartz clock - Frequency: | 32.768 KHz |
| Quartz clock - Range of operating temperature: | +4°C to +50°C' |
| Quartz clock - Rate accuracy: | DIN 8325 ≤ 1 sec. per day |
Shipping costs
Denmark (12.00 EUR)
Italy (5.95 EUR)
Luxembourg (12.00 EUR)
Netherlands (12.00 EUR)
Poland (15.00 EUR)
Portugal (15.00 EUR)
Spain (15.00 EUR)
Sweden (15.00 EUR)
Switzerland (29.75 EUR)
---
Methods of payment
Prepayment via bank transfer
Paypal
Credit card
---
Available in different designs

Article number: #
CW310013

Ready for dispatch within 24h
(excl. VAT: 368.07 EUR)
Shipping weight: 2.00 Kg
---

Article number: #
CW360007
Quartz tide clock chrome plated

Ready for dispatch within 24h
(excl. VAT: 399.16 EUR)
Shipping weight: 2.00 Kg
Related products
---
---
---
---
---
Other customers looked for:
brehmen quartz clocks
clock movement LR1
Quartz tide clock movement