WEMPE Mechanical Bell Clock 185mm Ø (ADMIRAL II Series)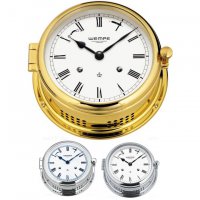 Product description:
The classic mechanical ship's bell clock of the WEMPE ADMIRAL II series is equipped with a Swiss escapement. The mechanical movement has a power reserve of 8 days. The strike of the clock can be turned off via a small switch. Even after the revision of the ADMIRAL series, the bell clock will convince customers with its timeless design, to which the white dial with black numerals in Roman spelling belongs.
The WEMPE ADMIRAL II bell clock is available with chrome plated or colourlessly lacquered brass housing. You can also choose a light blue clock face frame. Order your favourite version of this clock and look forward to a piece of WEMPE's tradition that is not only popular at sea.
| | |
| --- | --- |
| Instrument: | Bell clock |
| Size of clock face: | White clock face with black numerals |
| Material: | Brass |
| Movement: | Mechanical movement with 8-day power reserve |
| Scale: | Roman numerals |
| Bell clock - Average weekly rate: | +/- 3 minutes' |
| Bell clock - Jewels: | 11 |
| Bell clock - Power reserve: | 8 days |
| Bell clock - Range of operating temperature: | +4°C to +50°C' |
Shipping costs
Denmark (12.00 EUR)
Italy (5.95 EUR)
Luxembourg (12.00 EUR)
Netherlands (12.00 EUR)
Poland (15.00 EUR)
Portugal (15.00 EUR)
Spain (15.00 EUR)
Sweden (15.00 EUR)
Switzerland (29.75 EUR)
---
Methods of payment
Prepayment via bank transfer
Paypal
Credit card
---
Available in different designs

Article number: #
CW450009
Bell clock brass with white clock face
| | |
| --- | --- |
| Surface: | Brass |
| Design of clock face: | White clock face with black numerals |

Delivery time of 8 weeks
(excl. VAT: 1495.80 EUR)
Shipping weight: 2.00 Kg
---

Article number: #
CW460001
Bell clock chrome plated with white clock face and blue frame
| | |
| --- | --- |
| Surface: | Chrome plated |
| Design of clock face: | White clock face with black numerals / blue frame |

Delivery time of 8 weeks
(excl. VAT: 1663.87 EUR)
Shipping weight: 2.00 Kg
---

Article number: #
CW460003
Bell clock chrome plated with white clock face
| | |
| --- | --- |
| Surface: | Chrome plated |
| Design of clock face: | White clock face with black numerals |

Delivery time of 8 weeks
(excl. VAT: 1663.87 EUR)
Shipping weight: 2.00 Kg
Related products
---
---
---
---
Other customers looked for:
wempe ships clock escapments
wempe admiral chrome clock