WEMPE Quartz Bell Clock 185mm Ø (ADMIRAL II Series)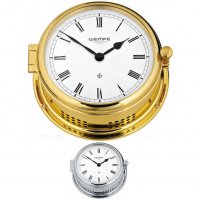 Product description:
This WEMPE ADMIRAL II ship's bell clock is equipped with a battery-powered quartz movement, which is characterised by a high accuracy. The Roman numerals are black and mounted on a white dial with a diameter of 125 mm. The ADMIRAL II quartz bell clock has a diameter (measured at the back) of 185 mm. The strike of the bell clock can be switched on and off on demand.
The new edition of the largest of WEMPE Series presents the bell clock in two alternatives: A colourlessly lacquered high-gloss polished and a chrome plated brass version. Both ADMIRAL II bell clocks have appealing looks and are a fitting gift for those who want to express their passion for marine lifestyle at home.
| | |
| --- | --- |
| Instrument: | Bell clock |
| Size of clock face: | White clock face with black numerals |
| Material: | Brass |
| Movement: | Battery-powered quartz movement |
| Scale: | Roman numerals |
| Design of clock face: | White clock face with black numerals |
| Quartz clock - Battery: | 1 x Lady 1.5 Volt (technological standard description IEC : LR1 - ANSI : N) |
| Quartz clock - Frequency: | 32.768 KHz |
| Quartz clock - Range of operating temperature: | +4°C to +50°C' |
| Quartz clock - Rate accuracy: | DIN 8325 ≤ 1 sec. per day |
Shipping costs
Denmark (12.00 EUR)
Italy (5.95 EUR)
Luxembourg (12.00 EUR)
Netherlands (12.00 EUR)
Poland (15.00 EUR)
Portugal (15.00 EUR)
Spain (15.00 EUR)
Sweden (15.00 EUR)
Switzerland (29.75 EUR)
---
Methods of payment
Prepayment via bank transfer
Paypal
Credit card
---
Available in different designs

Article number: #
CW450010

Delivery time of 8 weeks
(excl. VAT: 1075.63 EUR)
Shipping weight: 2.00 Kg
---

Article number: #
CW460004
Quartz bell clock chrome plated

Delivery time of 8 weeks
(excl. VAT: 1159.66 EUR)
Shipping weight: 2.00 Kg
Related products
---
---
---
---
Other customers looked for:
Admiral II ships clock battery operated
Wempe Admiral II Striking Clock