WEMPE Thermo/Hygrometer 140mm Ø (REGATTA Series)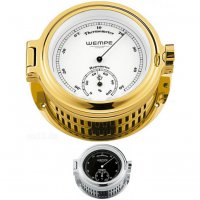 Product description:
When forecasting weather the thermometer/hygrometer combination of the WEMPE REGATTA Series is a reliable helper and indispensable at sea. The relative humidity level helps assessing the chances of fog. The 100mm clock face also displays temperature in degrees Celsius or Fahrenheit on an either white clock face with gold enclosure or matt-black clock face with chrome plated enclosure.
The WEMPE REGATTA thermometer/hygrometer measures precisely and is an important marine instrument at sea that meets the desires of sailors and ship owners, produced by a traditional German manufacturer.
| | |
| --- | --- |
| Instrument: | Thermometer, Hygrometer |
| Size of clock face: | White clock face with black numerals |
| Material: | Brass |
| Scale: | Temperature in °C/°F, Humidity level in % |
| Hygrometer - Accuracy: | +/- 3% between 40 - 90 %' |
| Hygrometer - Humidity sensor: | Synthetic fibre |
| Hygrometer - Measuring range: | 0 to 100 % |
| Hygrometer - Range of operating temperature: | -10 to +50 °C' |
| Thermometer - Accuracy: | +/- 1°C between -10°C to +50°C' |
| Thermometer - Temperature sensor: | Bi-metal |
Shipping costs
Denmark (12.00 EUR)
Italy (5.95 EUR)
Luxembourg (12.00 EUR)
Netherlands (12.00 EUR)
Poland (15.00 EUR)
Portugal (15.00 EUR)
Spain (15.00 EUR)
Sweden (15.00 EUR)
Switzerland (29.75 EUR)
---
Methods of payment
Prepayment via bank transfer
Paypal
Credit card
---
Available in different designs

Article number: #
CW170009
Thermometer/hygrometer chrome plated with black clock face
| | |
| --- | --- |
| Surface: | Chrome plated |
| Design of clock face: | Black clock face with white numerals |

Delivery time of 8 weeks
(excl. VAT: 907.56 EUR)
Shipping weight: 2.00 Kg
Related products
---
---
---
---
---
---
---
Other customers looked for:
thermometer hygrometer wempe