WEMPE Comfortmeter 140mm Ø (REGATTA Series)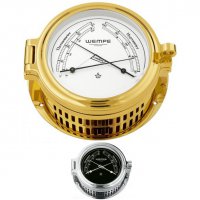 Product description:
The WEMPE REGATTA comfortmeter assists in measuring temperature and relative humidity level and is therefore one of the most important instruments at sea. The temperature is displayed in °C/°F, the humidity level in % - upon desire on either a white or matt-black clock face of 100mm diameter. The white clock face is embraced by a gold plated high-gloss polished housing, while the black clock face is placed in chrome plated housing, which is also high-gloss polished.
The WEMPE comfortmeter is the REGATTA Series is a practical instrument, even in private rooms and offices, as it assists in regulating room climate.
| | |
| --- | --- |
| Instrument: | Comfortmeter, Thermometer, Hygrometer |
| Size of clock face: | White clock face with black numerals |
| Material: | Brass |
| Scale: | Temperature in °C/°F, Humidity level in % |
| Hygrometer - Accuracy: | +/- 3% between 40 - 90 %' |
| Hygrometer - Humidity sensor: | Synthetic fibre |
| Hygrometer - Measuring range: | 20 to 100 % |
| Hygrometer - Range of operating temperature: | -10 to +50 °C' |
| Thermometer - Accuracy: | +/- 1°C between 0 - 40°C' |
| Thermometer - Measuring range: | 40 to 100 °F |
| Thermometer - Temperature sensor: | Bi-metal |
Shipping costs
Denmark (12.00 EUR)
Italy (5.95 EUR)
Luxembourg (12.00 EUR)
Netherlands (12.00 EUR)
Poland (15.00 EUR)
Portugal (15.00 EUR)
Spain (15.00 EUR)
Sweden (15.00 EUR)
Switzerland (29.75 EUR)
---
Methods of payment
Prepayment via bank transfer
Paypal
Credit card
---
Available in different designs

Article number: #
CW170003
Comfortmeter chrome plated with black clock face
| | |
| --- | --- |
| Surface: | Chrome plated |
| Design of clock face: | Black clock face with white numerals |

Delivery time of 8 weeks
(excl. VAT: 907.56 EUR)
Shipping weight: 2.00 Kg
Related products
---
---
---
---
---
---
---