WEMPE Quartz Clock 100mm Ø (PILOT III Series)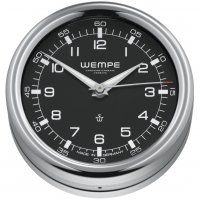 Product description:
The 100mm large WEMPE quartz clock of the PILOT III Series impresses with its modern appeal and precise measurements. The design with black clock face and white LumiNova indexes targets young yacht owners who do not consider traditional marine instruments up-to-date. The attractive look of the PILOT II quartz clock is rounded by the stainless steel enclosure.
The glowing clock face with Arabic numerals is 85mm in diameter and easy to read. The WEMPE PILOT III ship clock is driven by a battery-powered quartz movement. Trust 110 years of tradition in instrumental engineering and decide for this WEMPE quartz clock.
| | |
| --- | --- |
| Instrument: | Quartz clock |
| Size of clock face: | White clock face with black numerals |
| Material: | Stainless steel |
| Surface: | Stainless steel |
| Movement: | Battery-powered quartz movement |
| Scale: | Arabic numerals |
| Design of clock face: | Black clock face with white numerals |
| Clock face illumination: | LumiNova - glowing clock face |
| Quartz clock - Battery: | 1 x Mignon 1.5 Volt (technological standard description IEC : LR& - ANSI AA) |
| Quartz clock - Frequency: | 32.768 KHz |
| Quartz clock - Range of operating temperature: | +4°C to +50°C' |
| Quartz clock - Rate accuracy: | DIN 8325 ≤ 1 sec. per day |

Ready for dispatch within 24h
275.00 EUR
(excl. VAT: 231.09 EUR)
Shipping weight: 1.00 Kg
---
Shipping costs
Denmark (12.00 EUR)
Italy (5.95 EUR)
Luxembourg (12.00 EUR)
Netherlands (12.00 EUR)
Poland (15.00 EUR)
Portugal (15.00 EUR)
Spain (15.00 EUR)
Sweden (15.00 EUR)
Switzerland (29.75 EUR)
---
Methods of payment
Prepayment via bank transfer
Paypal
Credit card
---
Wempe-Instruments.com Article number: #
CW250007
Related products
---
---
---
---
---
---
---
Other customers looked for: