WEMPE Barometer 120mm Ø, hPa/mmHg (NAUTICAL Series)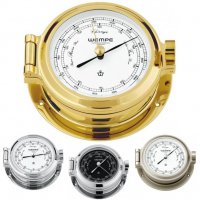 Product description:
The precise WEMPE NAUTICAL barometer measures atmospheric pressure in a manner that the weather of the following two days can be forecasted. Due to this special feature, the barometer is one of the most important instruments at sea. Such prediction can also be of advantage on land, which makes the WEMPE barometer a useful and at the same time decorative element of private rooms and offices.
This WEMPE barometer is 120mm in diameter with a 78mm clock face in white. The edition with matt chrome plated housing is also available with a black clock face. Further types of enclosures are high-gloss polished and matt nickel plated brass.
| | |
| --- | --- |
| Instrument: | Barometer |
| Size of clock face: | White clock face with black numerals |
| Material: | Brass |
| Movement: | Barometer |
| Scale: | Atmospheric pressure in hPa/mmHg |
| Barometer - Accuracy: | +/- 2 hPa between 980 - 1030 hPa' |
| Barometer - Measuring range: | 940 to 1060 hPa, 700 to 790 mmHg |
| Barometer - Number of aneroid capsules: | 1 |
| Barometer - Range of operating temperature: | +4°C to +50°C' |
| Barometer - Temperature error: | +/- 2,5 hPa at sudden change in temperature of +/- 10°C' |
Shipping costs
Denmark (12.00 EUR)
Italy (5.95 EUR)
Luxembourg (12.00 EUR)
Netherlands (12.00 EUR)
Poland (15.00 EUR)
Portugal (15.00 EUR)
Spain (15.00 EUR)
Sweden (15.00 EUR)
Switzerland (29.75 EUR)
---
Methods of payment
Prepayment via bank transfer
Paypal
Credit card
---
Available in different designs
Related products
---
---
---
---
---
---
---
Other customers looked for:
Barometer 28 in face
nautical clock white -wall
wempe regatta chrome plated white face