WEMPE Barometer 95mm Ø, hPa/mmHg (PIRATE II Series)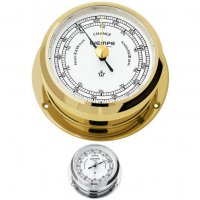 Product description:
The WEMPE barometer of the PIRATE II Series impresses with simple elegance and precise measuring of atmospheric pressure which is clearly displayed on the white clock face. It is an indispensable instrument at sea, as is assists in reliable weather forecasting for up to 48 hours.
The barometer is embedded in a high-quality brass or chrome plated enclosure. The size of this WEMPE barometer is 95mm in diameter and 36mm in height. The clock face is 61mm in diameter. Atmospheric pressure is displayed in hPa/mmHg.
| | |
| --- | --- |
| Instrument: | Barometer |
| Size of clock face: | White clock face with black numerals |
| Material: | Brass |
| Movement: | Barometer |
| Scale: | Atmospheric pressure in hPa/mmHg |
| Design of clock face: | White clock face with black numerals |
| Barometer - Accuracy: | +/- 3 hPa between 980 – 1030 hPa' |
| Barometer - Measuring range: | 940 to 1060 hPa, 700 to 790 mmHg |
| Barometer - Number of aneroid capsules: | 1 |
| Barometer - Range of operating temperature: | +4°C to +50°C' |
| Barometer - Temperature error: | +/- 3 hPa at sudden change in temperature of +/- 10°C' |
Shipping costs
Denmark (12.00 EUR)
Italy (5.95 EUR)
Luxembourg (12.00 EUR)
Netherlands (12.00 EUR)
Poland (15.00 EUR)
Portugal (15.00 EUR)
Spain (15.00 EUR)
Sweden (15.00 EUR)
Switzerland (29.75 EUR)
---
Methods of payment
Prepayment via bank transfer
Paypal
Credit card
---
Available in different designs
Related products
---
---
---
---
---
---
---