WEMPE Comfortmeter 96mm Ø (PIRATE II Series)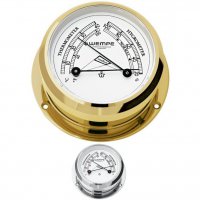 Product description:
The WEMPE comfortmeter PIRATE II is available in the brass or chrome edition. It reliably shows temperature and relativ humidity level at once and therefore combines the functions of thermometer and hygrometer in one instrument.
Marine cofortmeters are not only convenient aboard ships and yachts. They can also be of great help when trying to reach the exact level of comfortness at home. The rule of thumb for climate is: A higher level of relative humidity allows a lower level of temperature to achieve an equally comfortable feeling.
This comfortmeter of the WEMPE PIRATE II Series is 95m in diameter, of which the clock face takes up 61mm, and 36mm in height. The temperature is displayed in °C and °F, the humidity level in %.
| | |
| --- | --- |
| Instrument: | Comfortmeter, Thermometer, Hygrometer |
| Size of clock face: | White clock face with black numerals |
| Material: | Brass |
| Scale: | Temperature in °C/°F, Humidity level in % |
| Design of clock face: | White clock face with black numerals |
| Hygrometer - Accuracy: | +/- 3% between 40 - 90 %' |
| Hygrometer - Humidity sensor: | Synthetic fibre |
| Hygrometer - Measuring range: | 20 to 100 % |
| Hygrometer - Range of operating temperature: | -10 to +50 °C' |
| Thermometer - Accuracy: | +/- 1°C between -10°C to +50°C' |
| Thermometer - Measuring range: | 40 to 100 °F |
| Thermometer - Temperature sensor: | Bi-metal |
Shipping costs
Denmark (12.00 EUR)
Italy (5.95 EUR)
Luxembourg (12.00 EUR)
Netherlands (12.00 EUR)
Poland (15.00 EUR)
Portugal (15.00 EUR)
Spain (15.00 EUR)
Sweden (15.00 EUR)
Switzerland (29.75 EUR)
---
Methods of payment
Prepayment via bank transfer
Paypal
Credit card
---
Available in different designs
Related products
---
---
---
---
---
---
Other customers looked for: