WEMPE Barometer 100mm Ø (PILOT V Series)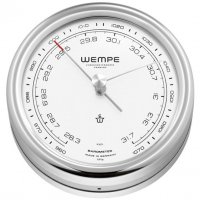 Product description:
The minimalistic design is the trade mark of the WEMPE PIOT IV Series which this barometer is part of. It has an 85mm large anthracite grey clock face with dark grey numerals which gives the instruments its classy look. The barometer is a popular instrument among sailors und even looks good at home or in the office.
The WEMPE PILOT IV barometer indicates atmospheric pressure in hPa and is framed by a stainless steel 100mm housing. With the instrument come 110 years of expertise in instrument engineering - that is what WEMPE stands for.
| | |
| --- | --- |
| Instrument: | Barometer |
| Size of clock face: | White clock face with black numerals |
| Material: | Stainless steel |
| Surface: | Stainless steel |
| Movement: | Barometer |
| Scale: | Atmospheric pressure in hPa |
| Design of clock face: | White dial with grey numbers |
| Barometer - Accuracy: | +/- 2 hPa between 980 - 1030 hPa' |
| Barometer - Measuring range: | 960 to 1070 hPa, 28.3 to 31.7 Inch |
| Barometer - Number of aneroid capsules: | 1 |
| Barometer - Range of operating temperature: | +4°C to +50°C' |
| Barometer - Temperature error: | +/- 2,5 hPa at sudden change in temperature of +/- 10°C' |

Ready for dispatch within 24h
275.00 EUR
(excl. VAT: 231.09 EUR)
Shipping weight: 1.00 Kg
---
Shipping costs
Denmark (12.00 EUR)
Italy (5.95 EUR)
Luxembourg (12.00 EUR)
Netherlands (12.00 EUR)
Poland (15.00 EUR)
Portugal (15.00 EUR)
Spain (15.00 EUR)
Sweden (15.00 EUR)
Switzerland (29.75 EUR)
---
Methods of payment
Prepayment via bank transfer
Paypal
Credit card
---
Wempe-Instruments.com Article number: #
CW250014
Related products
---
---
---
---
---
---
---