WEMPE Yacht Clock 110mm Ø with alarm function/radio sectors (SKIFF Series)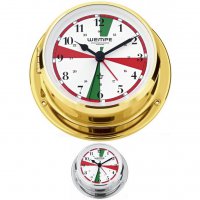 Product description:
This modern WEMPE yacht clock is a product of the SKIFF Series, battery-powered by a precise quartz movement, and equipped with an alarm function. You may choose between a high-gloss polished colourlessly lacquered or chrome plated brass housing. Both models have an elegant appeal and are a precious accessory for every cabin.
This 42mm high WEMPE yacht clock is 110mm in diameter and opens with a pushbutton so that battery exchanges can be quickly and easily performed. The 80mm white clock face has Arabic numerals and coloured radio sectors.
| | |
| --- | --- |
| Instrument: | Yacht clock with alarm function |
| Size of clock face: | White clock face with black numerals |
| Material: | Brass |
| Movement: | Battery-powered quartz movement, Alarm function |
| Scale: | Arabic numerals, Radio sectors |
| Design of clock face: | White clock face with coloured radio sectors |
| Quartz clock - Alarm tone frequency: | 2.048 KHz /8 Hz modules |
| Quartz clock - Alarm tone interval: | 1 second ON / 3 seconds OFF |
| Quartz clock - Battery: | 1 x Lady 1.5 Volt (technological standard description IEC : LR1 - ANSI : N) |
| Quartz clock - Frequency: | 32.768 KHz |
| Quartz clock - Range of operating temperature: | +4°C to +50°C' |
| Quartz clock - Rate accuracy: | DIN 8325 ≤ 1 sec. per day |
| Quartz clock - Volume: | ≥77dbA at a distance of 10cm to tone generator |
Shipping costs
Denmark (12.00 EUR)
Italy (5.95 EUR)
Luxembourg (12.00 EUR)
Netherlands (12.00 EUR)
Poland (15.00 EUR)
Portugal (15.00 EUR)
Spain (15.00 EUR)
Sweden (15.00 EUR)
Switzerland (29.75 EUR)
---
Methods of payment
Prepayment via bank transfer
Paypal
Credit card
---
Available in different designs

Article number: #
CW070001

Ready for dispatch within 24h
(excl. VAT: 209.24 EUR)
Shipping weight: 1.00 Kg
---

Article number: #
CW090001
Yacht clock chrome plated

Ready for dispatch within 24h
(excl. VAT: 225.21 EUR)
Shipping weight: 1.00 Kg
Related products
---
---
---
---
---
---
---
Other customers looked for: