WEMPE Drum Barograph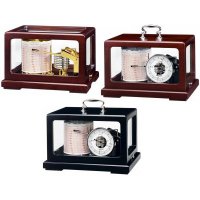 Product description:
The classical WEMPE drum barograph is the trademark representative of the traditional German company and makes every small change in atmospheric pressure visible. This task is performed with eight pressure cans inside the weather monitoring instrument that draw fine lines on paper. The barograph has a battery-powered quartz movement, is hand-crafted, and available in three different editions: With a high-gloss polished mahogany housing with gold plated brass parts, With a matt or polished mahogany housing with chrome plates brass parts and barometric display, and with a black high-gloss polished wooden housing with chrome plated brass parts and barometric display.
The electro mechanic WEMPE drum barograph weighs 3.1kg and is delivered with a fibre pen and 52 diagram papers (either hPa or inch), one for each week of the year.
| | |
| --- | --- |
| Instrument: | Drum barometer, Barometer |
| Size of clock face: | 265 x 170 x 175 mm |
| Movement: | Battery-powered quartz movement |
Shipping costs
Denmark (12.00 EUR)
Italy (5.95 EUR)
Luxembourg (12.00 EUR)
Netherlands (12.00 EUR)
Poland (15.00 EUR)
Portugal (15.00 EUR)
Spain (15.00 EUR)
Sweden (15.00 EUR)
Switzerland (29.75 EUR)
---
Methods of payment
Prepayment via bank transfer
Paypal
Credit card
---
Available in different designs
Article number: #
CW810002
Drum barograph brass in polished mahogany enclosure
| | |
| --- | --- |
| Material: | Brass in polished mahogany enclosure |

Ready for dispatch within 24h
(excl. VAT: 2336.13 EUR)
Shipping weight: 4.00 Kg
---

Article number: #
CW810003
Drum barograph chrome plated in matt mahogany enclosure
| | |
| --- | --- |
| Material: | Chrome plated brass in matt mahogany enclosure |

Ready for dispatch within 24h
(excl. VAT: 2336.13 EUR)
Shipping weight: 4.00 Kg
Other customers looked for: