WEMPE - Quartz Tide Clocks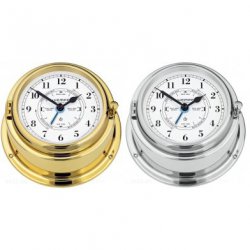 Time is often unimportant measure at sea, other factors dominate the life aboard. Such as the tides. Every captain must have precise information especially about the low tide in tidal areas. The WEMPE quartz tide clocks do not only indicate time, but also provide reliable information about the tides.
The BREMEN II Series is extended with the WEMPE ship clocks with tide indexes in two types: colourlessly lacquered or chrome plated housing. Both versions have a 100mm white clock face with black numerals that is easily read. The tide indicator is placed in the centre.
WEMPE tide clocks are also used on land in coastal regions, as the tides are an indispensable element of everyday life. Luckily, they come with fine outer appearance so that they are eye-catching accessories for every living room.


Quartz tide clock brass
[More details]

Ready for dispatch within 24h
369.00 EUR
(excl. VAT: 310.08 EUR)


Quartz tide clock chrome plated
[More details]

Ready for dispatch within 24h
399.00 EUR
(excl. VAT: 335.29 EUR)
Other customers looked for:
wempe chrome clock
wempe clock and tide